Top Shelf here. Four Lines Deep falls to me tonight... lace 'em tight.
Jackets vs. Anaheim Ducks - Nationwide Arena
7:00 p.m. (EST); Fox Sports Ohio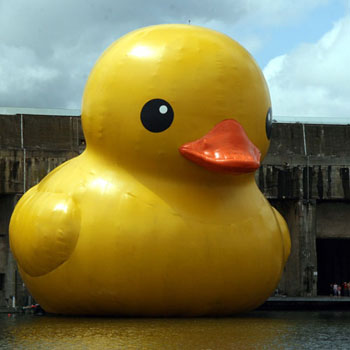 The Ducks are 4-4-2 in their last 10, including a 6-4 loss to the Blue Jackets on October, 24th. Tonight is the second stop on a four game roadtrip for Anaheim who are 6-8-2 (14points) overall and currently are in last place in the Western Conference.

First Line: How will the Jackets respond to the worst home loss in franchise history?
Two nights ago the Red Wings came to town and pushed around the Blue Jackets like
Mongo did to the good people of Rock Ridge
. Final score: 9-1. Effort and poor decision making were the order of the day by those Jackets. When you play well and lose, you can put the loss behind you and focus on the next challenge. When you lose because you made bad mistakes and didn't compete hard, you have to make more of an effort to keep it from effecting your mental approach to the next game. Look for finished checks and smart decisions when clearing the defensive zones as indicators that improvements are at hand.
Second Line: The Rotating Door to the Blueline.
When
Hejda
was out the team really struggled to fill his minutes with solid defensive hockey. Since his return, last game notwithstanding, they have given up fewer odd man rushes and have generally seen an increase in the level of defensive play. In fact, the last two games (vs. DET and CAR) were the only games in which Hejda and
Mike Commodore
have been in the lineup at the same time this year. Clearly it is time for one of them to take a night off. This time it's Commodore out with
Kris Russell
in stepping in.
According to Puckrakers
the pairings at this morning's skate were:
Klesla
-Hejda,
Tyutin
-
Stralman
, and Russell-
Methot
. Commie steps out as his conditioning has not returned to a level where he can provide three periods of solid play. He is also
seeing a doctor this afternoon
to rule out any other causes beyond conditioning.
Bobby Ryan
(6-5-11, +2),
Corey Perry
(12-8-20, +3) and
Ryan Getzlaf
(1-15-16, +3) are the top line for Anaheim. With C
Sammy Pahlsson
(a former Duck) out of the line up tonight, the defense needs to focus on keeping these wingers to the outside and limiting their opportunities. Look for Hitchcock to match top lines and for
Antoine Vermette
to draw the duty of defending Perry down the middle.
Third Line: Beware the Cornered Animal(s).
Both teams are coming off losses and will be looking to right the ship. Obviously the Jackets we more embarrassed than the Ducks were in their last game (3-1 loss to NJ). But Anaheim is in last place in the Western Conference and is looking to hop on the good foot before any of the
trade rumors
become either A) a distraction, or B) true.
Assuming both teams enter the game with a will to win, it could turn into a spirited affair. If either team goes down more that two goals early in the game, expect someone to make a statement with a hard check or a fight to try and change the tempo. Beware of Ducks F
George Parros
. There is nobody on the Jackets' roster that should even consider tangling with Parros in a fight. He's too dangerous. That said, if the Jackets fall down early and try to change the energy of the game with some heavy play, Big George will be the one for the Ducks to answer the bell. If someone has to take him on, look for
Dorsett
rather than
Boll
to be the dance partner.
Fourth Line: Does Garon See an Opportunity?
Columbus backup G
Mathieu Garon
will make his first home start of the season. Garon was brought in during the off season to provide
Steve Mason
with both some needed rest in his starters role, and a bit of a push in order to keep the sophomore sharp. Well, Mason has not been sharp and this game would be a perfect opportunity for Garon to show that he is stable enough to helm the ship when needed. Mason's comments notwithstanding, few of the 8 goals he allied on Wednesday were due to poor play on his part. More often than not it was a skater who committed a turnover or failed to cover a defensive assignment that led to the score. But don't mistake tonight's insertion of Garon merely as a breather for Mason. I believe this switch is a way for Hitch to let Mason know that he needs to find more consistency.